Black Kid Magic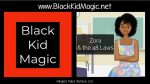 Podcast Name:
Black Kid Magic
Short Podcast Description:
Storytelling for children. New episode each week + positive affirmations + Saturday mini stories.
Long Podcast Description:
Each week, BKM tells a new episode of a story of encouragement for young black children. These stories touch on something different with each character. Our first character is Zora.
Zora is a seeker of power. She is reading a book that tells her about how to obtain power in life and she decides to use what she learns from the book to become powerful at school. Listen in each week as Miz Ginger reads Zora's story to you!
Miz Ginger is the head writer and narrator at BKM. She is a teacher and single mother of three. She loves children and knows that, sometimes, stories make life a little easier to understand. So, make sure you become a Patron and listen to all of the wonderful stories.
Help BKM reach more patrons so that we can produce even more story lines each week!