The Minding Your Business Podcast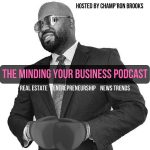 Podcast Name:
The Minding Your Business Podcast
Short Podcast Description:
Entrepreneurship, real estate, trending news….there's no business like minding like minding your own!
Long Podcast Description:
Host Champ'Ron leads the discussion every Friday with new episodes related to best practices you will implement in your daily personal and professional walk. Whether as a business owner, corporate leader, non profit director, or community advocate you will gain great value from the content as the host shares from his personal experiences in organizational leadership.