J.B. vs Everrybody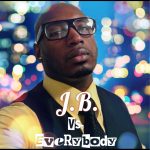 Podcast Name:
J.B. vs Everrybody
Short Podcast Description:
Welcome to the J.B. vs Everybody Podcast
The politically incorrect podcast for the culture.
Long Podcast Description:
Your host Dr. Brown is a well known Social Media Journalist and Relationship Guru.
With a Bachelors degree in Women Studies and Doctorate in Organizational Leadership, your host Dr. Brown will discuss various issues that are plaguing the culture in a very unapologetic manner with a plethora of guests!