Pozitively Dee Discussion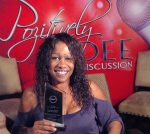 Podcast Name:
Pozitively Dee Discussion
Short Podcast Description:
Various Topics Regarding HIV
Long Podcast Description:
Pozitively Dee is the host of "Pozitively Dee Discussion" an Internet Radio talk show on BlogTalkUSA. She was diagnosed with HIV 21 years ago, and in 2001 she was blessed to give birth to a healthy daughter, born HIV negative. Instead of allowing HIV to destroy her life or frighten her into seclusion, Dee was determined to turn her diagnosis into a way to love and give to others while fulfilling a much-needed purpose as an outspoken educator and advocate! Dee lives to be a voice for so many who are scared to come forward with their HIV status. Pozitively Dee uses her platform on social media and her show on BlogTalkUSA to promote honest, informative, and supportive discussion on HIV and to educate as many individuals as possible about the virus. Dee is committed to the task of keeping HIV awareness at the forefront of public consciousness. In addition to her outreach efforts and public service, she is in the process of obtaining a B.A. Degree in Public Health and plans to become a professional Health Educator. Among the vast range of HIV related topics regularly discussed on "Pozitively Dee HIV AIDS/Discussion" are the importance of STI prevention, medical treatment options and the importance of HIV care, HIV is not a death sentence, public policy and political implications on HIV research and care, and how we WILL stop the stigma of HIV! "Pozitively Dee Discussion" is an educational and social resource for those who are diagnosed with HIV and for family members and friends of anyone who has been diagnosed with HIV, as well as a safe platform to share personal stories, thoughts, and feelings in a supportive setting. Tune in and be a part of the power of "Pozitively Dee Discussion" on BlogTalkUSA, Saturdays at 4:00 pm MST on BlogTalkUSA.com!