Unspoken Citizen Podcast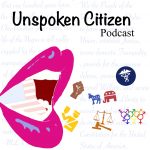 Podcast Name:
Unspoken Citizen Podcast
Short Podcast Description:
Your #1 Urban News, Politics and social commentary show . Keeping you informed and entertained for the culture.
Long Podcast Description:
News, Politics and Social Justice Podcast by a 2 friend long time college friends ( ones a social worker and the other a NYC attorney.) Keeping you informed , entertained and educating you on all the reasons why you should get involved in your community and in politics.