The No Apology Podcast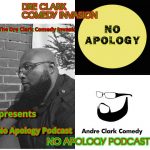 Podcast Name:
The No Apology Podcast
Short Podcast Description:
The thoughts and opinions of comedian Dre Clark
Long Podcast Description:
Hailing from Dayton, Oh and a proud graduate of Central State University Andre Clark has a stage presence that is captivating with a wit that is sharp and truthful. His style is practical, honest, and intelligent with an array of topics from politics to pop-culture, church to bachelor life, and childhood to adulthood, Andre has the ability to make everyday life routines into a hysterical moment with his fresh perspectives. Andre debuted at the legendary Wiley's comedy club and since then he has made numerous appearances throughout the region at various college campuses, festivals, and clubs. Inspired by comedians such as Redd Foxx, Richard Pryor, George Carlin, Dave Chappelle, and a host of other great comics, Andre is a student of game and always studying his craft. The work ethic and his willingness to have a better performance, Andre Clark is a name that is going to be known.