Unreasonable Fridays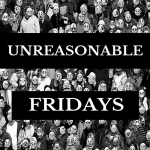 Podcast Name:
Unreasonable Fridays
Short Podcast Description:
Making sense of nonsense since 2017.
Long Podcast Description:
The Unreasonable Fridays Podcast Network is a group of podcasts centered around unique Black voices and perspectives. From parents to doctors to gamers to sex workers, Unreasonable Fridays is where you go sit back, relax, and learn directly those with the most important message.