Mental Matters Podcast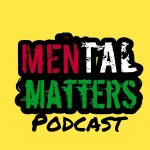 Podcast Name:
Mental Matters Podcast
Short Podcast Description:
Mentalmatters are matters of the mental (thoughts, topics and ideas) that we as a people especially men have been shamed from talking about…. until now.
Long Podcast Description:
Men need to speak up! Our inspiration was the fact that people of color especially men struggle with embracing mental health as legitimate health concerns. Our goal is to help spread the right culture that your mental matters for the sake of the our fellow men and women going through. Please join us weekly as we discuss all mental matters that we never address until now.