It's All About Health & Fitness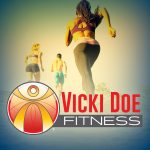 Podcast Name:
It's All About Health & Fitness
Short Podcast Description:
A place to learn, discuss and participate in healthy living: healthcare, nutrition, fitness, wellness, prevention, exercise, interventions, healthy living, weight-loss, inspiration.
Long Podcast Description:
Vicki Doe Fitness podcast show "It's All About Health & Fitness" features Dr. Vicki Haywood Doe, PhD, ACSM-EP-C, MES a certified exercise physiologist/health fitness specialist and medical exercise specialist and her co-host, Dr. Virginia Dee Banks-Bright, MD, MBA, an infectious diseases specialist/ internal medicine physician. They discuss and talk with other health professionals, and the community at large; on topics and issues that focus on the prevention and the management of chronic diseases through evidence-based medicine including nutrition, exercise, healthy living, and total well-being. They also give their unique perspectives on the everyday living "hot topics" in the community and the nation as a whole.