Buy Black: Build the New Black Wall Street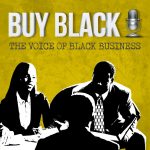 Podcast Name:
Buy Black: Build the New Black Wall Street
Short Podcast Description:
Finding and supporting Black-Owned Businesses shouldn't be so hard. So I developed BuyBlackPodcast.com to help you find anything you need to Build, Grow, and Connect within the Black Economic Community.
Long Podcast Description:
My Mission is to Draw Consumers and Business Owners together to Ignite the Global Black Economy. Through this platform our socially conscious listening community connects with black business owners and their companies and learns actionable tips from their stories of struggle and growth. Each week I publish a new, compelling interview with a black entrepreneur who shares their story, teaches us some useful business information, and gives their number one piece of advice for the Buy Black Community as a whole.