Uncanny Nerdverse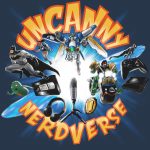 Podcast Name:
Uncanny Nerdverse
Short Podcast Description:
A huge focus on X-Men. But we find time to discuss other geek related content. Thanks for stopping by!
Long Podcast Description:
Formerly Columbus Comics Corner, after reviewing a plethora of comics. We bring Uncanny Nerdverse into its creation. While we focus on tons X-Men content coverage. We still would like to explore different corners of fandom and geek culture. The multiverse is about to get interesting, So strap in and prepare to travel through the Uncanny Nerdverse.