Baked and Awake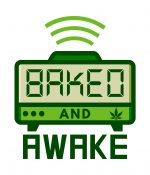 Podcast Name:
Baked and Awake
Short Podcast Description:
A Podcast of Cannabis and Conspiracies…and You
Long Podcast Description:
Pacific Northwest Cannabis Industry guy gets hecka baked and talks all things Cannabis, Cannabis Industry, Politics that impact Cannabis users, and more. We also chop it up about all sorts of strange stories, hidden histories, and Conspiracy theories. Check out my episodes about Mars Hill Church, Mel's Hole, or The Landmark Forum to catch us at our aspirational best.