Views from Da Friends Zone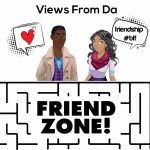 Podcast Name:
Views from Da Friends Zone
Short Podcast Description:
Podcast of Real Talk with Real People
Long Podcast Description:
WELCOME TO #Viewsfromdafriendzone PODCAST EVERY SUNDAY AT 5PM! Views from the friend zone is podcast featuring Real Talk Marv, Sinsay and Cliff " Brock" Bonhomme. The podcast discusses Relationships, Social Issues and Living in Social Media Era. Join us as we enjoy Laughs, honest moments and real discussions about issues that effect us everyday!